Les déchets bois issus des entreprises de première et seconde transformation (activités de sciage, emballage, construction , ameublement, …), sont estimés à environ 12 millions de tonnes.
A cela s'ajoute un volume de 4 millions de tonnes issu des chantiers du bâtiment.

The challenge is to increase the value of wood processing waste.
Increasing matter value:
Production of paper pulp
Production of particle or composite panels
Production of compost from bark or other ground by-products
Application of bark as mulch in green spaces and plantations
Application of sawdust and shavings for animal litter
Production of charcoal
​
Wood waste can also be used for:
Floor cleaning products
Meat and fish smoking
Metal degreasing agents
​Energy production:
Pellets, briquettes, wood chips
Research projects are being carried out to study other means of valuation for this material (biofuels, cattle feed, chemical component extraction, liquefaction, etc.)
​

​Schneider Jaquet sifters are specially designed, drawn and engineered in collaboration with a sawdust refining facility in order to perfectly meet the requirements of this industry.
For over 10 years, we have integrated our machines in the wood transformation and valuing processes of many companies in France and abroad.
Our sifting machines operate on the basis of planetary movement, allowing better distribution of grains all over the sifting surface and thus enhancing the flow rate and yield.
They allow producers to obtain 2 to 4 particle sizes.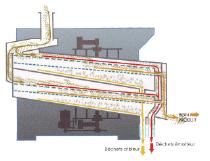 Once sifted, each one of the fractions obtained can be used for its own final purpose.
Our solutions enable our clients to obtain extremely precise results for the thinnest products.
Our specific knowledge in wood sifting enables us to achieve sifting precision to as little as 200 microns.